Pahks, Ahts & Smahts: The Fenway Tour!
The Details:
If you think The Fenway is just a ballpark, think again! The eclectic Fenway is a neighborhood rich in the history, culture and controversy that made Boston what it is today.
Built according to one of the most unique urban planning design, the neighborhood has since evolved through several fascinating transitions. The Fenway tells a story of high art and culture from a more gentrified era of our Nation's history colliding and cooperating with the problems of modern urban living.
One of the birthplaces of the modern Green Movement, the Fenway's conservation lands, man-made Muddy River, Rose Garden and scenic greenspaces wander among the world's finest museums, surprising architecture and the largest collection of schools in Boston Proper.
Charming and disarming, the Fenway is a hodgepodge of the Hub. (Plus, we hear there's also a pretty amazing baseball park there to ride around, too!)
The Important Stuff:
Tour lasts 1 hour (longer by arrangement)
From $95.00 per pedicab
For up to 3 adults or 2 adults and 2 kids.
This tour may not have availability on Red Sox game days and during Fenway Park special events.
Pricing may increase on Red Sox game days and during Fenway Park Special Events.
In the case of lousy pedicabbing weather we'll reschedule our trike festivities at another time or date.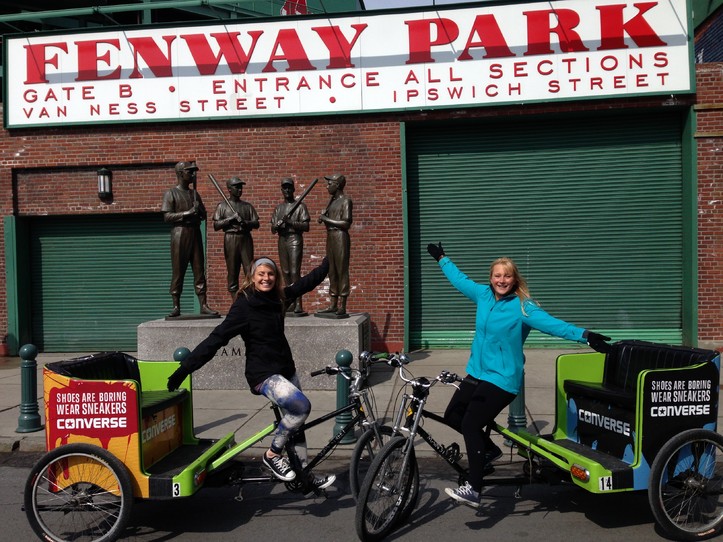 Neighborhoods this tour may pass through:
Head back to the Main Tours Page:
Check out our other tours: